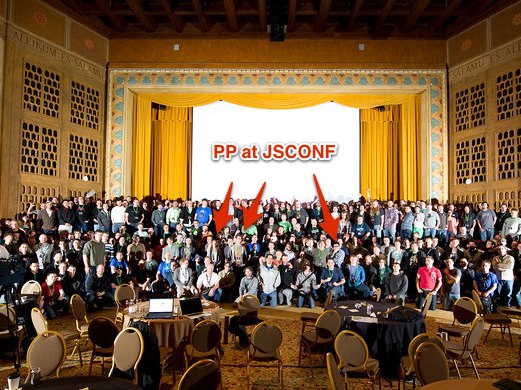 A couple weeks ago a few Paperless Post'ers got the opportunity to go to JSConf in Portland. As always, Chris did an amazing job organizing and putting the whole thing together. Not only was it a great time, I think it got the team inspired and ready for some big projects we're working on. In the aftermath, it made me think a bit about why I go to and speak at conferences.
Why I Speak
I gave my first talk at a big conference at the Scottish Ruby Conf in 2009. I had given lightning talks before that, but that was the first in front a big audience. It was extremely nerve wracking and I had a massive demo fail on stage (Lesson Learned: Live coding ain't easy). In the end, though, a lot of people seemed to like it and I got a bunch of really great feedback from the community. Enough so that I was invited back the next year. Since then, I've spoken a ton and it's become a lot easier. The reason hasn't changed much, though. I speak because I like sharing ideas. When I'm excited about something I want to yell it from the mountain. I also like entertaining, "but that's a different story."
Why I Go to Conferences
In the days before Twitter, blogs, and GitHub, conferences were forums for technology. It was where an industry met every year to share its progress and discuss new challenges. Now that progress and challenges can be instantly and regularly shared with the community that part of conferences has become secondary to the community itself. For me, conferences are really about getting all the people in a community into a small space for a short period of time and talking. Sure the presentations are great, and you can learn a bit here and there, but really its all about the people.
JSConf always sets the bar really high with having a great space for great conversations, and this year was no exception. Surrounded by the luxurious Portland Art Museum, I talked with friends and colleagues about the latest and greatest web tech and how everyone's using it. I left Portland feeling inspired and ready to tackle the next big features here at Paperless Post. I was extremely happy to be able to share my excitement by bringing other members of the dev team with me as well. Look for a big chunk of our dev team at this year's Gotham Ruby Conference!