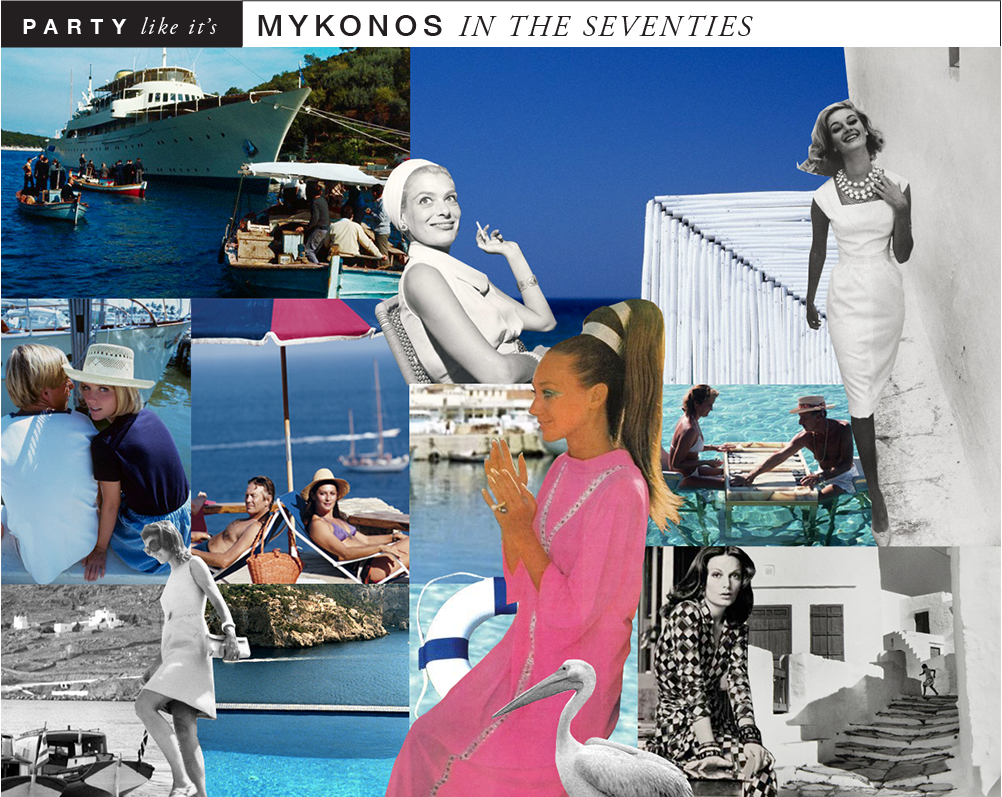 During the dog days of summer—when the sun is high and the most important ingredient in a beverage is ice—we daydream about dancing the heat off in Mykonos. Our favorite hot-weather party theme harks back to the island's tipping point, when a idyllic enclave in the middle of the Aegean turned into a hedonistic playground.
Shortly after Jackie O. became Jackie O. and started cruising the Greek seas in her new husband's 325-foot pleasure boat, Mykonos became a hot spot for the jet-set crowd of the 60s and 70s. The island was frequented by the likes of Grace Kelly, Sophia Loren, and Brigitte Bardot, to name a few, and the windmill-dotted shores gave birth to a sleepless nightlife.
The ultimate homage to the Mykonos of the 1970s is a poolside party decked in nautical blues and whites, lifesavers, and maybe a pelican or two. Bathing attire is optional but staying up until dawn is a must. After hangovers are recovered from, everyone breaks out Jackie's signature sunglasses and starts all over again.
—
Photos courtesy of Bettmann/Corbis; Terrazza Martini; Larry Dale Gordon/Design Pics/Corbis, Norman Parkinson; Condé Nast Archive/Corbis; Slim Aarons; Condé Nast Archive/Corbis; Slim Aarons; Time Life; Bettmann/CORBIS; Magnum Photos; Target; Magnum Photos; Magnum Photos.