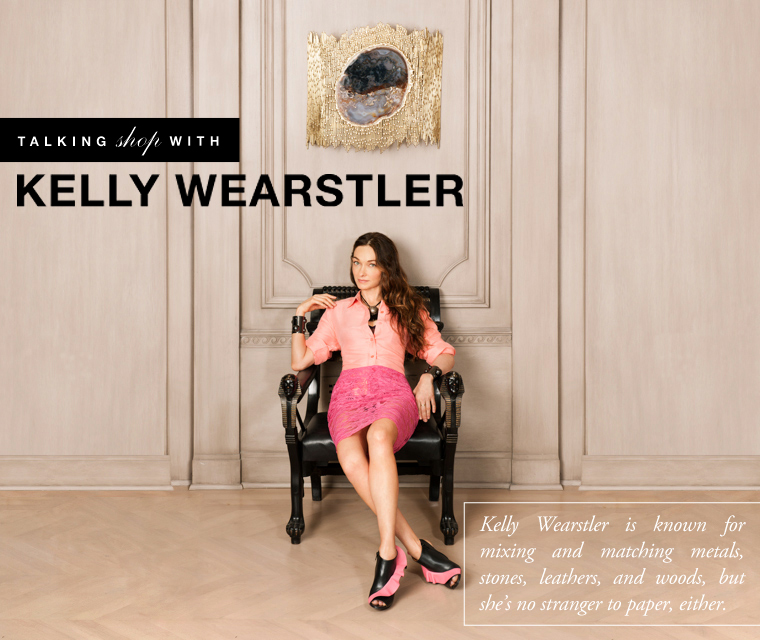 For Kelly Wearstler, style is all about juxtaposition. Best known for her sophisticated interiors, Wearstler's signature aesthetic mixes and matches seemingly disparate elements: natural and luxe, patinaed and new, raw and refined.
"Pairing flea-market antiques with contemporary art creates a timeless, cool vibe," she said. "My influences always come from both a vintage and modern perspective." The interior designer's home objects also draw deeply from the fundamental beauty of fine textures.
Among her favorite materials to work with are metal, stone, leather, wood—but she's no stranger to paper goods, either. "I send at least one handwritten note a week," Wearstler told us. "I'm from the South where sending a thank you letter is simply proper etiquette. I'm a huge advocate of that personal touch."
Now, the lifetime practitioner of correspondence has brought paper into her repertoire. Wearstler's new Paperless Post collection features fifty invitation and stationery designs that perfectly translate her love of contrast to the new medium. Perfect for elegant at-home entertaining and the thank yous that follow, the collection features the chic textures of bronze, agate, marble, paint, and fur.
Kelly Wearstler for Paperless Post launched on October 15th, but the designer has already put pen to paper. "I used my new stationery as soon as I could, including to a few amazing magazine editors who featured the collaboration."
—
Kelly Wearstler for Paperless Post is available for online sending and on paper at paperlesspost.com.