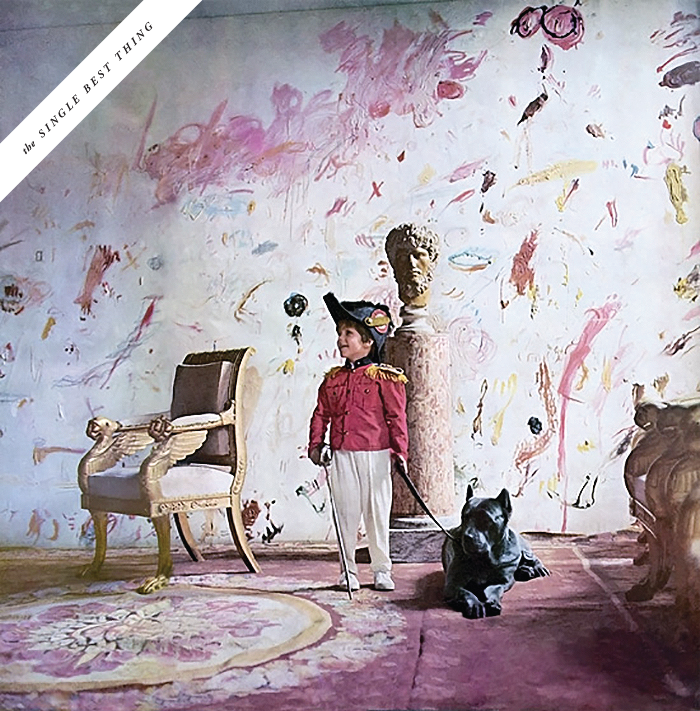 For Diana Vreeland, Vogue editor in chief from 1963 to 1971, interior design was about more than beautiful spaces. It was the people who inhabited them—with the "taste and talent and originality to create a rare ambiance in their daily lives"—that made these rooms come alive.
Vreeland's love for interiors had become an inspiration for fashion photographer Horst P. Horst by the mid-1960s. To ensure the authenticity of his subjects, Horst avoided altering the spaces or their residents in any way, and it was through this passive lens that Vogue readers entered the world of Cy Twombly.
In Horst's series for the magazine's November 1966 issue, Twombly's familiar palette of brushstroke and scribble—both playful and sophisticated in its use of texture—is writ large on a new canvas: his Roman palazzo. The typically private American looks at home lounging with his feet up and striking a pose amidst a collection of ancient busts.
In this photograph, we glimpse the fingerprints of the magazine editor, the fashion photographer, and the modern artist, though none are seen in the frame. The painter's 7-year-old son, Alessandro, poses in epaulettes and an admiral's hat while the family's regal Great Dane chaperones. Behind the pair, Twombly's Triumph of Galatea leans against the wall, so large in size that appears as though the painting has been done directly on the walls of the estate. The scene is one that is believably of the Twomblys' daily lives, casually magnificent yet urbanely unassuming.
—
From "Classic Roman Surprise," Horst P. Horst. Vogue, November 1966.